Double Glazing Doors Alfreton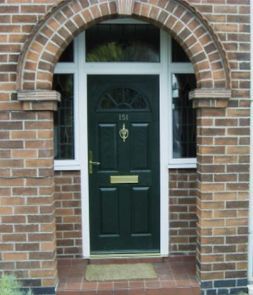 Our Fantastic range of Composite doors are manufactured from Thermoplastic and Glass Reinforced Plastic skins and within a very local delivery distance from your property in Alfreton. The door face is textured with a through coloured authentic wood grain design, recreating the appearance of timber.
The unique triple weather seal with its purpose designed outer frame gives significant improved weather resistance when compared to a traditional timber door.
Composite Back Door Security in Alfreton
All of our Discovery Door locking mechanisms are multi-point high security systems and all doors have internal steel mesh reinforcement to resist mechanical attack.
Composite Back Door Finishes
The Discovery Doors are available in a range of woodgrain textured finish colours including White, Red, Blue, Black, Green, Rosewood and Oak. As well as different colour combinations of internal/external skins.
There is also available a range of non-textured painted finishes in Anthracite Grey, Roseda Green and Ivory.
Abbey Glass & Burton Glass Discovery Range composite doors provide an extensive selection of matching side panels to suit most styles of doors.
We Have had some fantastic feedback form the work we have carried out across Alfreton. Take a look at some of our fabulous work by visiting or double glazing door gallery.
Patio Doors in Alfreton
With an in-line Patio Door your room will feel instantly brighter and up-lifting bringing the outside in and creating a whole new living experience. In-line Patio Doors are ideal where space is an issue since the in-line sliding action does not encroach on room internally or outside space.
Householders will no longer have to sacrifice strength for the largest window in their home, the Patio Door.
Classic French Doors are an ideal replacement for those draughty, hard to maintain and often insecure timber or steel doors.
Manufactured from our range of elegant profiles they combine improved insulation with excellent security to meet today's demanding performance requirements.
These features coupled with a virtually maintenance free product make our range of Classic French doors an important and stylish addition to any home Classic French Doors are an ideal alternative to sliding Patio Doors.
For help or advice on any of our products or services please call 01332 371 883 or fill out the contact form on the left and we will be in touch as soon as possible.