Double Glazing Doors Burton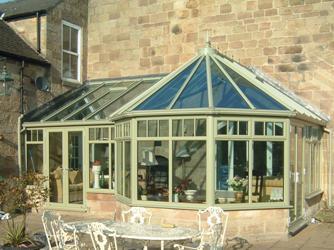 We are Burtons most trusted double glazing firm celebrating 40 years in business! Our fully comprehensive 10 year guarantee covers all aspects of workmanship including moving parts, such as handles, hinges and locks (the most likely items to fail) as well as glazing and all associated installation and building work. We employ all our installation teams, fabricators, glaziers, glass cutters and even a building division. All our work force are NVQ qualified and carry industry recognised CSCS identification cards.
Abbey & Burton Glass
We are very happy with our windows; the lads were very friendly and did a great job. Thank you very much.
Mr Lumsden - Burton-on-Trent - Feb 2014
5
Abbey & Burton Glass
May i take this opportunity to thank you for the professional manner in which my order has been completed to my entire satisfaction. The advice and assistance that provided regarding design and fitting has been commendable. This customer relationship together with the high level of competence shown by your fitters has fully justified my confidence in having a most professional company and personnel accommodate my entire requirements. Please accept my congratulations and hope you are able to convey them also to those staff with whom i have been in contact during the past three months.
Mr Greatrex - Burton-on-Trent - Feb 2014
5
See some of our fantastic door choices below:
Aluminium and PVCu Bi-Fold Doors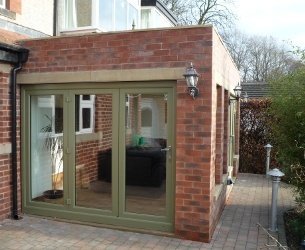 Bi-Folding Doors in Aluminium or PVCu are the ideal way to maximise extra space and connect inside living to the outside world.
Bi-Folding doors can create a whole new feel for your home, linking rooms together and seamlessly joining inside living with outside space. Versatile and aesthetically pleasing, bi-fold doors are the ideal replacement for existing sliding Patio doors or French doors to flood any room with natural light.
Flexible Bi-Fold Doors
Amazingly flexible, bi-fold doors can be fully opened, partially opened or totally closed, depending on the amount of space required.
Doors fold effortlessly gliding on stainless steel rollers allowing unrestricted thoroughfares and the maximum use of space and light.
Once fully opened, doors stack neatly to one side creating valuable new space and open plan living
With easy access in summer and a wonderful view in winter, bi-fold doors add light and air all year round.
Patio Doors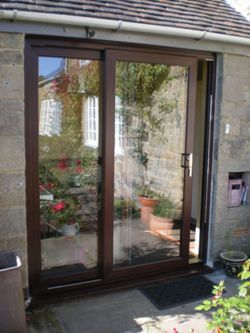 With an in-line Patio Door your room will feel instantly brighter and up-lifting bringing the outside in and creating a whole new living experience. In-line Patio Doors are ideal where space is an issue since the in-line sliding action does not encroach on room internally or outside space.
Householders will no longer have to sacrifice strength for the largest window in their home, the Patio Door.
Patio Door Weather Seal
Each Patio Door is manufactured using the highest grade materials and to the finest of tolerances to provide a tight seal that keeps out the winter chill and the summers heat at bay.
Patio Door Security
Security is a priority in the design of our in-line Patio Doors and all our doors are fitted with a combination of an enhanced lock and security handle that makes the door amongst the most secure available.
All Patio Doors come complete with an Anti Lift mechanism preventing the sliding door being removed externally by leverage with a spade or a crow bar.
We also offer an aluminium low threshold option that enables easy access for wheelchair users.
Entrance Doors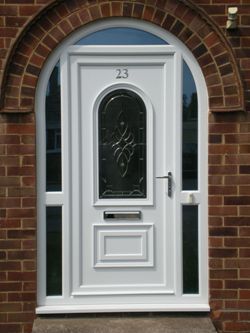 The Classic range of PVCu Entrance Doors are elegant in design with slim featured sight lines unlike other PVC profiles. They reduce draughts and improve insulation, are secure and virtually maintenance free.
Mortice Lock for Entrance Doors
All Classic residential doors are fitted with the revolutionary Vectis 5 Lever mortice lock. This advanced locking system combines the traditional mortice lock with the advantage of multipoint locks to provide the next generation in locking technology.
By far the biggest benefit of of the Vectis lock is the fact that it is cylinder free, making the bumping of locks and cylinder snapping (the biggest security issue facing the to-days market) irrelevant. The locks are Police Preferred Security Specification and carry the prestigious 'Secured by Design' accreditation.
Entrance Door Colour Options
Available in a range of colours and complimented by our extensive range of door furniture all covered by our Fully Comprehensive Ten-Year Guarantee.