Composite Front Doors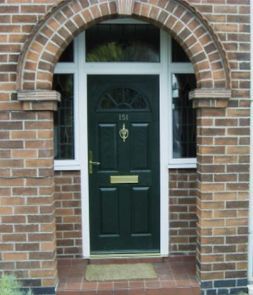 The Discovery range of Composite doors are manufactured from Thermoplastic and Glass Reinforced Plastic skins, formed around a laminated frame with a polyurethane foam insulated core. The door face is textured with a through coloured authentic woodgrain design, recreating the appearance of timber.
The unique triple weather seal with its purpose designed outer frame gives significant improved weather resistance when compared to a traditional timber door.
Composite Front Door Security
All Discovery Door locking mechanisms are multi-point high security systems and all doors have internal steel mesh reinforcement to resist mechanical attack.
Composite Front Door Finishes
The Discovery Doors are available in a range of woodgrain textured finish colours including White, Red, Blue, Black, Green, Rosewood and Oak. As well as different colour combinations of internal/external skins.
There is also available a range of non-textured painted finishes in Anthracite Grey, Roseda Green and Ivory.
Abbey Glass & Burton Glass Discovery Range composite doors provide an extensive selection of matching side panels to suit most styles of doors.